About our Deli
Creating our famous deli sandwiches since 1990, using only the freshest & finest ingredients in our sandwich shop. Premium Boars Head Meats, homemade all white meat chicken salad and our very own slow roasted rare roast beef, the very best deli York food there is! Every sandwich is hand crafted, dressed to your liking and piled high "deli style!"
Our Grill offers some of our most popular hot sandwiches and entrées! Homemade Meatballs in our own Marinara Sauce, our famous Eggplant Parmesan, or Steak Tips marinated and grilled to perfection! We love the Classics!
Our talented Chefs are always creating new dishes, such as our homemade BBQ Black Bean Burger and our Vegetable Lasagna, layered with Fresh Veggies and Served with both a Red & a White sauce. Stop into our sandwich shop for a selection you haven't tried before, only the best York food! With all of our homemade savory selections, it makes it hard to choose!
Place An Order
By Phone
Please call us at 207-363-2322
Open Daily
6:00am - 9:00pm
Open until 10pm on Friday and Saturday during the Summer!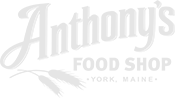 ---
From the Deli
Anthony's House Italian
Our all time favorite blend of Italian Style Cold Cuts: Genoa Salami, Mortadella, Ham, and Provalone.
6.50 / 9 / 8
Roast Beef
Our own Slow Roasted Rare Roast Beef piled high.
7.50 / 10 / 9
Chicken Salad
All White Meat with Celery and Carrots.
6.50 / 9 / 7.50
Tuna Salad
All White Tuna with Celery.
6.50 / 9 / 8
Greek Veggie
Our Veggie with Kalamata Olives, Feta Cheese, Pepperoncinis, and Creamy Greek Dressing.
6.50 / 9 / 7.50
Grilled Chicken Caesar Wrap
8.50
Boar's Head
Buffalo Chicken
7 / 9.50 / 8
Roasted Turkey Breast
7 / 9.50 / 8
Peppermill Turkey
Cracked Red Peppercorns give this bird a unique flavor!
6.50 / 9 / 8
Liverwurst
6.50 / 9 / 7.50
Deli Extras
Additional Bread Choices
White, Wheat, Multigrain, Light Rye, Dark Rye or our own Focaccia Bread.
Wrap Choices
White, Wheat, Spinach, Tomato Basil.
Cheese
American, Provolone, Swiss, Cheddar, Pepper Jack.
Veggies
Romaine Lettuce, Sliced Tomatoes, Green Peppers, Red Onion, Roasted Red Peppers, Pickles, Black Olives, Hot Pepper Relish.
Signature Hot Sandwiches
Homemade Meatballs with Cheese
Our own Beef and Port Meatballs with Provolone Cheese and our Homemade Marinara.
8
Chicken Parmesan
Fresh Chicken Breast, breaded, fried, and then toasted with Provolone and Marinara.
9
Eggplant Parmesan
Our famous Eggplant Casserole toasted on French Bread.
8.50
The Long Sands Sausage
Sweet Italian Sausage loaded with Grilled Peppers and Onions.
8
Tony's Sea Monster
8 oz. of Crispy Haddock with Lettuce, Tomato, and Tartar Sauce.
10
Spicy Chicken N' Blue Cheese
Buffalo Chicken Tenders with Lettuce, Tomato and BC Dressing.
8.50
Chicken Tender Sub
Our Crunchy Chicken Tenders dressed the way you like.
8.50
Salads
Chef's
with Roast Beef, Turkey, Ham, and Swiss.
10
Antipasto
with Salami, Ham, Mortadella, Provolone, and Pepperoncinis.
8.50
Add:
Steak Tips, Grilled Chicken, Extra Dressing
5 / 3.50 / .75
Pasta
Spaghetti
with Marinara or Butter
with Alfredo Sauce
with Marinara & Meatballs or Sausage
6 / 11, 7 / 12, 8 / 15.50
Chicken Broccoli Alfredo
9 / 17
Eggplant Parmesan & Pasta
8.50 / 17
Cheese Lasagna with Meat
with Meatballs or Sausage
10 / 19
Fire Kissed Wings
Northwest Wings
Dipped in Buffalo Sauce, coated in our Spicy and Smoky Northwest Seasoning.
10 / 20
Buffalo Wings
Roasted with our own traditional Buffalo Sauce.
10 / 20
Jamaican Jerk Wings
Coated in our own real Jamaican Jerk Sauce.
10 / 20
Teriyaki Wings
Coated in our Sweet Teriyaki Sauce.
10 / 20
BBQ Wings
Featuring our own Spicy BBQ Sauce.
10 / 20
Honey Siracha Wings
Sweet & Spicy Bold Flavor! Our own in house Marinade, Topped with Toasted Sesame Seeds.
10 / 20
Naked Wings
Plain & Simple. Roasted to Perfection!
10 / 20
From the Grill
*Chicken Tip Sub
Chicken Breast Tips cooked to perfection, try them with Teriyaki, Cajun, or BBQ Sauce.
7 / 9.50 / 9
*Boar's Head Pastrami
7.50 / 10.50 / 9
*Cheeseburger Sub
2 Quarter Pound Burgers dressed in your fashion.
8.50
Jack Wrap
Green Peppers, Mushrooms, Onions, a little spice, and Pepper Jack Cheese.
With Steak Tips or Chicken Tips
8.50 / 8
Steak Tip Royale
Our Sirloin Tips with Salami, Mushrooms, Onions, Green Peppers, and American Cheese.
8.50 / 11.50 / 9.50
Veggie Burger of the Day
Check out our Daily Specials Board
8
*
Choice of cheese & dressed the way you like! Try it with grilled onions, peppers and mushrooms.
Combo Meals
1. 1/3 LB. Cheeseburger and Fries
7.50
2. Double Cheeseburger and Fries
10
3. Small Pastrami and Fries
8
4. Small Steak & Cheese and Fries
9
5. Chicken Tenders and Fries
8.50
7. Small Chicken Tips and Fries
8
Grilled Paninis
Turkey Terrific
Boar's Head Turkey, Stuffing, Cranberry Sauce and Sage Mayo on Multigrain.
8
Roman Veggie
Fresh Tomato, Roasted Red Peppers, Black Olives, Provolone, with Basil Mayo on our own Asiago Cheese Focaccia.
8
Classic Reuben
Boar's Head Corned Beef, Sauerkraut, 1000 Island Dressing, and Swiss Cheese on Light or Dark Rye.
8.50
Tuna Melt
Tuna Salad with your choice of Swiss, American, Provolone, or Cheddar on your choice of Bread or Focaccia.
8
Italian Cold Cut
Genoa Salami, Imported Ham, Mortadella, Provolone Cheese dressed as you like on Focaccia.
8
WWBBQ Wrap
Our Store Cooked Roast Beef, Bacon, Tomato, Cheddar, and BBQ Sauce wrapped up and grilled.
9
Chicken Caprese
Fresh Mozzarella, Sliced Tomato, Grilled Chicken, Fresh Basil Leaves & Homemade Pesto on our own Asiago Cheese Focaccia Bread.
8.50
Jerk Chicken Reuben
Jerk Chicken, Coleslaw, Swiss Cheese, Chipotle Mayo on Light or Dark Rye.
8.50
Side Orders
Jalapeno Poppers
Cream Cheese filled with side of Red Pepper Jelly
7 / 13.50