Catering Services
Explore our catering menu online...from sandwich platters to apps, hot entrées to salads, we have many delicious items to choose from! Catering availability is evaluated on a case by case basis. To see if our catering service is right for you in York, Maine contact our catering department through email or phone, 207-363-2322, ext. 2. 
Bakery orders and limited bakery catering services are available with 72 hours notice. Please click on the Bakery tab above for contact information.  
Catering Contact Information
By Phone
Please call us at 207-363-2322, ext. 2
By Email
catering@anthonysfoodshop.com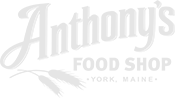 ---
Sandwich Platters
Regular
A Selection of our Famous Deli Sandwiches! Please see our original menu for pricing on our individual Sandwiches and Wraps. Cut and Boxed or Trayed for your Special Event.
Specialty
Choose from our extensive selection of Boar's Head Meats and Cheeses and Homemade Salads.
Italian CC, Imported Ham, Roast Beef, Veggie, Chicken Salad, Tuna Salad, Pesto Chicken Salad, Thanksgiving Style, Rosemary Ham, Peppermill Turkey, Oven Roast Turkey, Black Forest Ham, Maple Honey Ham, Buffalo Chicken.
1 dozen minimum order
Bread Choices
White, Wheat, Light Rye, Dark Rye, Multigrain, Ciabatta Roll (+ .25), Pretzel Roll (add + .25)
Mini Sandwiches
Finger or Slider Rolls filled with your choice from our Specialty Sandwich menu.
(2 dozen Minimum)
30" Party Subs
Choose any of our Famous Deli Sandwiches from our original menu and make it a 30" Monster Sub! Let your guest cut the size they want, or we'll cut, box or tray them for you.
(Tray charge is 6.99/tray)
Starters & Appetizers
Fresh Vegetable Crudité
served with our own House Made Herb Garlic Dip
12" or 18"
Domestic Cheese & Fresh Fruit Display
International Cheese & Fruit Display
Mini Meatball Tray
Choice of Italian or Swedish
(13x9x3 pan)
Stuffed Mushroom Caps
(2 dozen minimum - 1 dozen per flavor)
Spinach and Cheddar
Sausage and Cheddar
Italian Style
Salads
Fresh Tossed Salad
Tossed Salad Greens, Fresh Tomatoes, Cucumbers, Red Onion, Black Olives. Choice of Dressing.
Small or Large
Caesar
A traditional Caesar, Shredded Romano Cheese, with our Homemade Croutons & Dressing.
Small or Large
Additional charge for Grilled Chicken or Sirloin Steak
Antipasto Platter
A bed of Fresh Romaine Lettuce with Genoa Salami, Hot Capicola, Sharp Provolone, Fresh Mozzarella, Roasted Red Peppers, Black Olives, Artichoke Hearts & Pepperocinis.
12" or 18"
Baby Spinach & Sun Dried Cranberries
Candied Walnuts & Red Onion, Served with Raspberry Vinaigrette.
Small or Large
Fire Roasted Beets & Baby Greens
Served with our Homemade Roasted Shallot Vinaigrette.
Small or Large
Seasonal Mixed Berry Salad
Boston Lettuce served with Fresh Strawberries, Blueberries, & Raspberries. Topped with Gorgonzola Crumbles & Served with an Orange Vinaigrette.
Small or Large
Deli Salads
Cranberry/Walnut Cole Slaw
Black Bean w/Fire Roasted Corn
with siracha/lime vinaigrette
(5lb minimum)

Asparagus/Cucumber/Mozzarella
Maple Balsamic Kale Salad
Hot From the Oven - Italian
3 Cheese Lasagna
Served "Family Style" (13x9x3)
Cheese and Sausage Lasagna
Served "Family Style" (13x9x3)
Blonde Veggie Lasagna
Served "Family Style" (13x9x3)
Broccoli with Chicken Alfredo
Served "Family Style" (13x9x3)
Ricotta Stuffed Shells
Served "Family Style" (13x9x3)
Eggplant Parmesan
Served "Family Style" (13x9x3)
Pasta with Marinara
Served "Family Style" (13x9x3)
Pasta with Alfredo
Served "Family Style" (13x9x3)
Pasta with Fresh Pesto
Served "Family Style" (13x9x3)
Meatballs in Marinara
Served "Family Style" (13x9x3)
Sweet Sausage in Marinara
Served "Family Style" (13x9x3)
Meatballs and Sausage Combo
Served "Family Style" (13x9x3)
Chicken Parmesan
Served "Family Style" (13x9x3)
Garlic Bread
Served "Family Style" (13x9x3)
Fresh Baked Focaccia
Garlic/Rosemary/Asiago
Served "Family Style" (13x9x3)
Hot From the Oven - Traditional
Baked Mac n' Cheese
Served "Family Style" (13x9x3)
American Chop Suey
Served "Family Style" (13x9x3)
Oven Roasted Wings
BBQ, Teriyaki, Buffalo, Jerk, Naked, Honey Siracha
Served "Family Style" (13x9x3)
BBQ Back Ribs
Served "Family Style" (13x9x3)
Wing/Rib Combo
Served "Family Style" (13x9x3)
Fire Roasted Brussel Sprouts
Served "Family Style" (13x9x3)
Fire Roasted Potatoes
Red or White
Served "Family Style" (13x9x3)
Fire Roasted Vegetables
Served "Family Style" (13x9x3)
Coffee
Freshly Roasted
We provide a thermal dispenser that will keep your coffee hot and ready for 4 hours. Complete with cream, sugar, 8 oz. cups & stirrers.
Serves 14-16/28-32
BOX - 19.99 / 34.99