About Our Bakery
Baked with care by our talented in-house Bakers. Our bakery offers Cupcakes & Cakes with delicious Buttercream, Double Chocolate Brownies, Blondies, Whoopie Pies, Jumbo Cookies and more! Ask us about our Cannolis - filled to order with Fresh Ricotta Cream at our bakery in York, Maine! Help yourself to an array of Baker's Choice Cookie Jar Cookies. Our Breakfast Pastries include Pecan Sticky Buns, Fresh Fruit Turnovers & variety of Croissants! These are just a few of our bakery selections. We offer delicious Gluten Free options and Custom Orders are welcome! Always fresh baked and homemade daily from scratch at our bakery in York, Maine!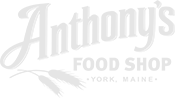 ---
Breakfast and Bakery Platters
Assorted Bagels with Cream Cheese
Assortment of our Fresh Baked Bagels. Choice of 2 Homemade Cream Cheese Selections.
(Minimum 1 dozen)
Assorted Breakfast Sandwiches
Made with Farm Fresh Eggs, Boar's Head Bacon & Sausage on English Muffins & Bagels.
(minimum 1 dozen)
Small Assorted Breakfast Pastry Platter
8 Freshly Baked Mini Muffins, 8 Assorted Mini Danish, 8 Blueberry Scones.
Large Assorted Breakfast Pastry Platter
24 Mini Muffins, 12 Assorted Mini Danish, 12 Blueberry Scones.
Homemade Cookie Platter
2 dozen Cookies. Pick 2 Varieties.
Sweet Breads and Cupcakes
Sweet Breads
Pumpkin, Banana, Pound Cake, Blueberry Lemon, Coconut Pound Cake
2 lb. Loaf
Cupcakes
Our Famous Jumbo Cupcakes are available to order in a variety of flavors. Too many to list! Gluten Free options and Custom Flavors available at an additional charge, please contact our Catering Manager for more information.
Bakery and Desserts
Mini Whoopie Pies
Min 1 dozen
Mini PB & C Bars
Min 1 dozen
Mini Brownies/Blondies
Min 1 dozen
Mini Lemon Bars
Min 1 dozen
Mini Cannolis
Min 1 dozen
Assorted Dessert Tray
Your Choice of 4 desserts listed above.
1 dozen of each
Min 4 dozen
10" Pies
Fruit Pies
Apple, Blueberry or Mixed Berry
Cream Pies
Chocolate Cream, Banana Cream, Coconut Cream, Key Lime, Chocolate Peanut Butter
Cakes
Cake Flavors
Chocolate, Vanilla, Red Velvet, *Carrot
Icing
Chocolate Buttercream, Vanilla Buttercream, Cream Cheese, Peanut Butter, Peanut Butter Buttercream, Raspberry Buttercream, Lemon Buttercream, Whipped Cream, Chocolate Ganache (+5)
Fruit Fillings
Raspberry, Blueberry, Lemon, Strawberry, Fresh Strawberries
+3
Cake Sizing/Serving
6" Round         (serves   4-6)     
8" Round         (serves  8-12)      
10" Round       (serves  15-20)    
1/4 Sheet        (serves  24-28)     
1/2 Sheet        (serves  35-40)     
Gluten Free Options Available - Call for pricing and information
Cheesecakes
6", 8" or 10"
Add $5 for fruit topping - Strawberry, Lemon, Blueberry, Raspberry